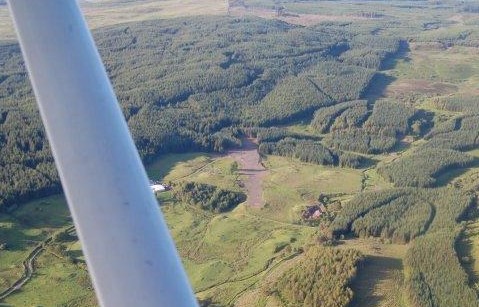 Glenswinton airfield data sheet
WGS84 coordinates
55°02.855'N        004°01.906'W    520 ft AMSL
7 nm NW of Castle Douglas
RNAV
TLA (113.8)         224°       35.8 nm
Runway      Dimensions (m)       Surface       TORA    LDA(m)      Lighting
03/21           430 x 15            Grass/Gravel       Unlicensed         By arrangement
Operating hours
0900 local to sunset, or PPR for H24.
Approach slope guidance
White-painted PASI boards indicate 4-deg short final approach slope for 03. For info Google "Passive Approach Slope Indicator" or just remember: "two boards high, you're too high; two boards low, you're too low".
Remarks
Private airfield. Visitors welcome at their own risk.
Prior permission not required for daytime ops, but call for briefing if you wish.
Average 3% upslope on runway 03.
High ground to North (890 ft AMSL) and East (1040 ft AMSL) of airfield.
If radio-equipped, make blind calls to "Glenswinton Traffic" on SAFETYCOM 135.475 MHz.
For video clips showing the airfield and surrounding countryside, please see our YouTube and/or Vimeo channels.

Noise Abatement Procedures
Inbound and outbound flight paths are strictly at the aircraft commander's discretion.
Preferred NAP: join overhead or as appropriate and fly a tight rectangular or tear-drop circuit to avoid overflying dwellings other than Glenswinton Farm. On departure, fly a climbing turn over uninhabited land. For examples, please see our YouTube channel and/or our Vimeo channel.
Additional GPS
waypoints
| | |
| --- | --- |
| 1/2-mile final: |  55°02.32'N  004°02.36'W  (HAG BRIDGE) |
| 03 threshold: |  55°02.769'N  004°01.974'W  500 ft AMSL |
Military Low Flying
The airfield is situated within operational low flying area LFA20(T). Flight crew are advised to consult the MoD's Operational Low Flying timetable for LFA 20(T) and/or contact the MOD Low Level Advisory Service and to squawk 7000 with Mode S or C on approach and departure.
Weather
Corsock AWS (3 nm East of AD): www.corsock.com
Surface wind speed at Glenswinton is usually about 1.3 times the value in the Corsock METAR.
Webcams
Experimental webcam and webcam #2 generally show conditions on final to runway 03:
If you can see the distant skyline, we have good VMC.
If you can only see as far as the hill in the centre of the picture (Barend Hill), it's marginal.
If you can't see Barend Hill, forget it!
Camera position, orientation, picture quality and availability may vary.
Fuel
Enquire.
Landing fee
Nil.
Operated by
Glenswinton Farm, Parton
Castle Douglas
Scotland  DG7 3NL
Tel: 01644 470223 or Telegram @PeterHJackson
Copyright © 2010-2023 Peter Jackson
Pilots, air traffic controllers and FISOs are authorised to copy, store and use the information and digital images on this website for the purposes of planning and executing air navigation.
Any other copying, storage or use of any material on this website is expressly prohibited.